Unique Blade & Design
Tilt up to 24″
Heaviest in Class
Large Grip Tires
Moves 10% More Dirt Then Competitors
Learn More

Move more dirt to maximize productivity on every acre!
EXPLORE KEY FEATURES

Explore Key Features on a 360° Interactive Gladiator
SEE IT IN ACTION

Watch the Gladiator In Action
MODELS

Take a Closer Look Into the Gladiator Models
DOWNLOAD

Download Brochures & Manuals for More Information
Explore Features of the Gladiator
Hover and Click for Interactive Display and Video
unique Features of the gladiator
Concept
Designed to reclaim substandard land lost to high moisture levels, the Gladiator's heavy scraper blades will help you revive potentially arable acres and reduce costs for regular land maintenance required around your farm or agri-business. Also, the Gladiator can be used for top dressing approaches or road areas that need to be restored.
Blade Design
The designed relief on the backside of the blade and the contour of the blade is designed to 'roll' dirt on the blade, reducing bounce, draft and allowing for increased horsepower efficiency.
'Deep Box' Weldment
Unique to PhiBer, the Gladiator blade is designed with a 'deep box' weldment to increase strength, the robust frame design is up to 75% stronger than competitive units and its weight (heaviest in the industry) ensures you'll cut into hard soils when others skid over the top. This design allows for a large amount of soil to be moved at one time, reducing the number of trips required to re-locate or re-contour the affected area.
Large Grip Tires & Indicators
Large diameter grip tires ensure that the blade stays straight behind the tractor even when corner ditching to extreme depths. Tilt, depth and horizon indicators help you determine your blade angle, digging depth and perspective of digging as well as the angle of cut, all while still giving you the ability to determine whether the blade is moving level in relation to the horizon. All indicators are large and easy to see from the tractor.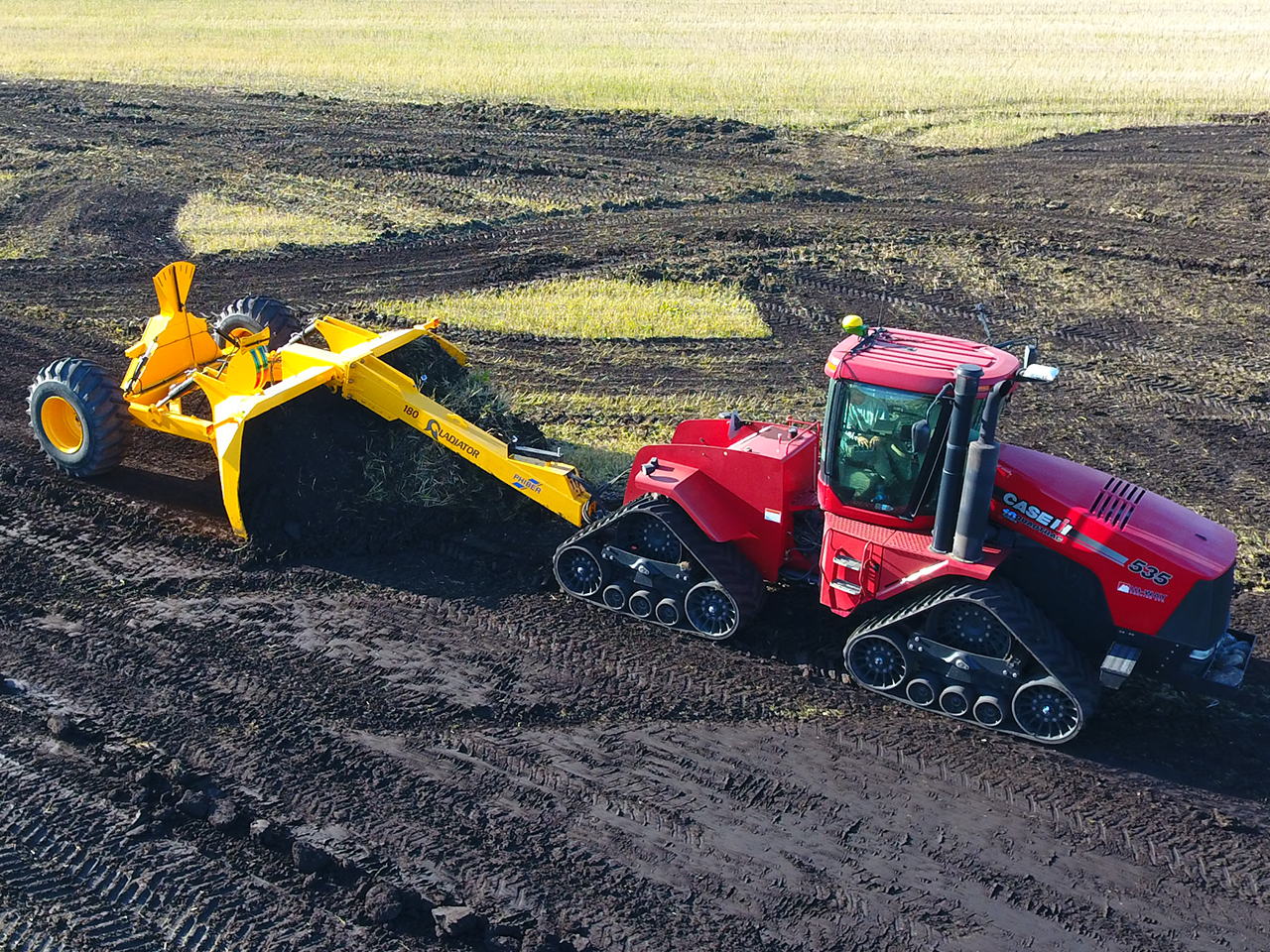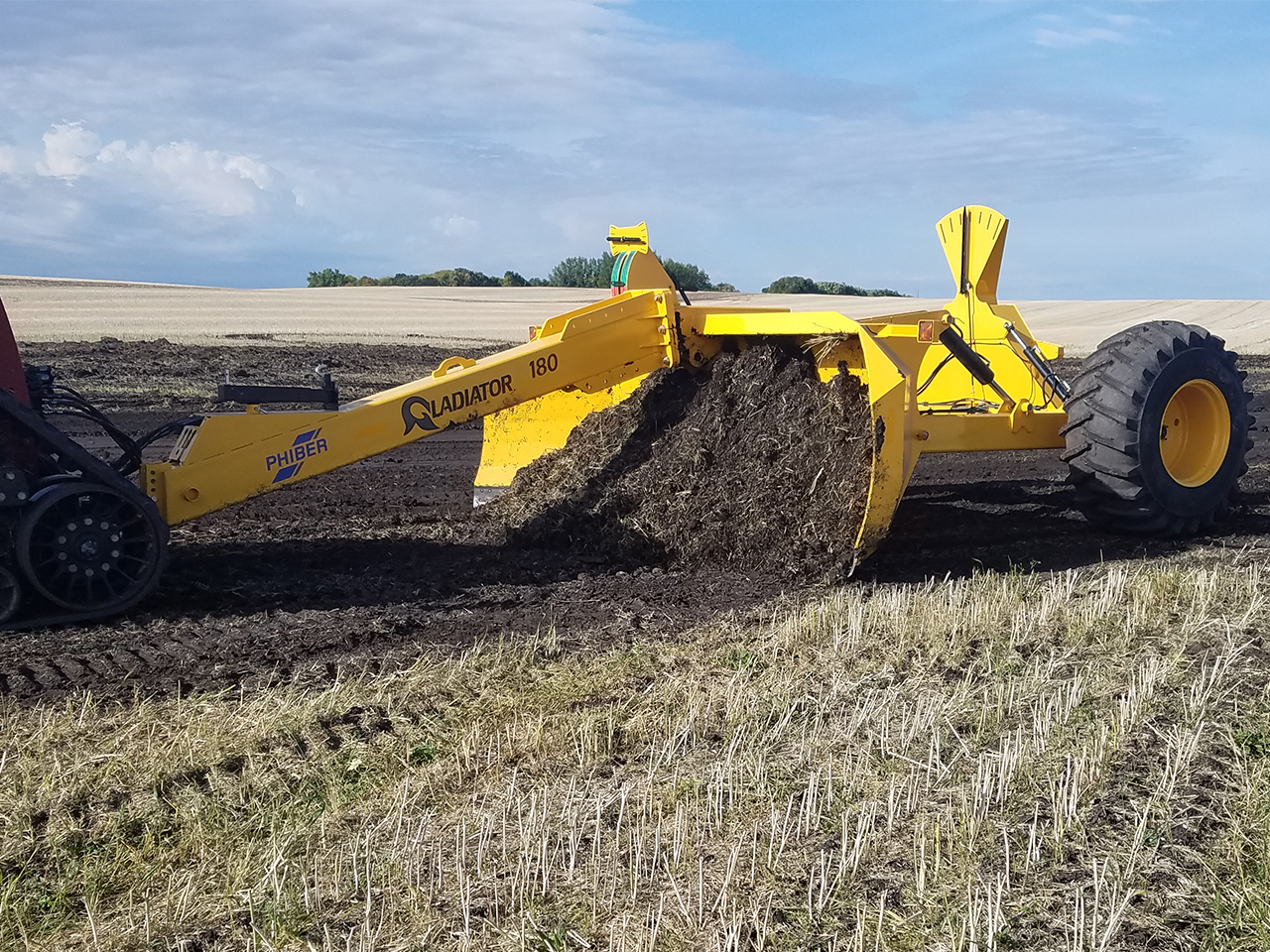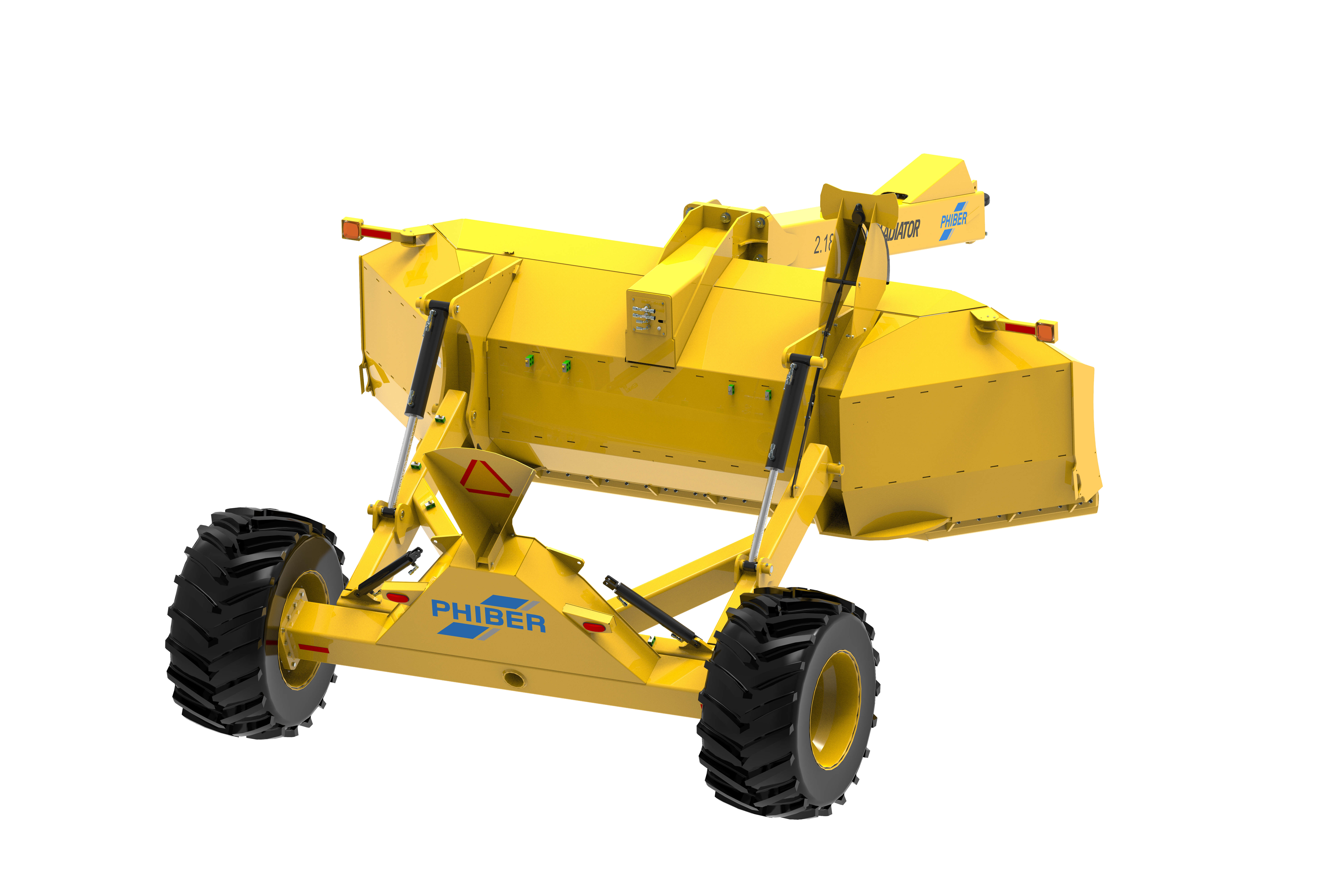 Ease of Use
 With hydraulic controls at your fingertips, the 3 critical working indicators in clear view at all times and the option to mount a GPS directly on the blade, you're able to work quickly and accurately, reducing equipment hours and manpower.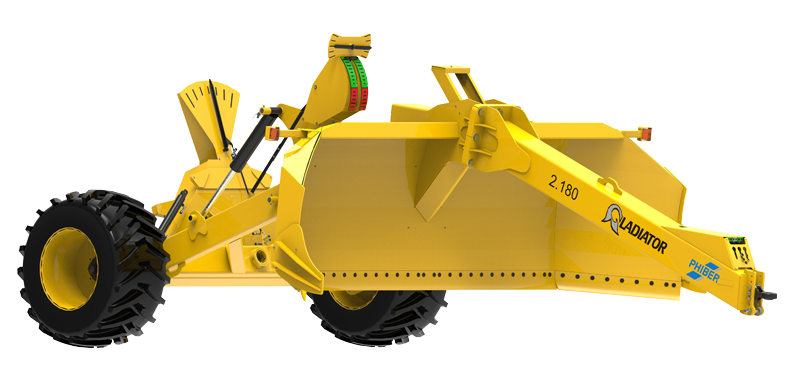 capacity
Due to its unique blade shape, the Gladiator series can more 10% more dirt than most competitive blades of the same width.
Basics
Heaviest in class, the Gladiator is built with large grip tires and large tilt, horizon, and depth indicators, which keeps the blade on track in all digging conditions.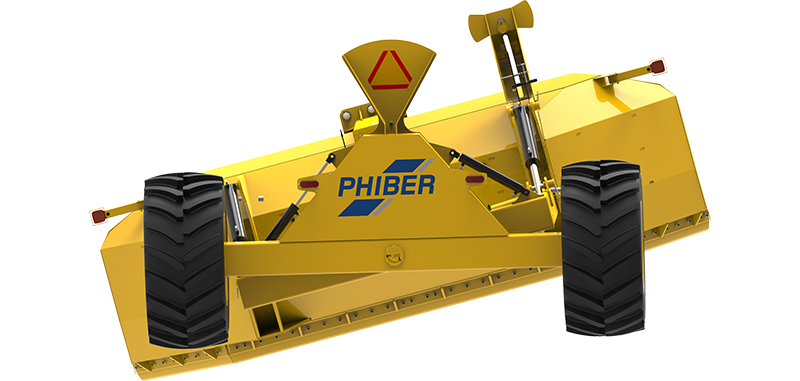 Functions
Tilt: The Gladiator can be tilted to dig 24" with either corner allowing for great contours.
Depth Indicator: Know your cutting height or filling depth.
Gyro Indicator: Know your angle of work in relation to the horizon.

Gladiator 3.180
• 18' blade
• 21,000 lbs.
• Length: 28.75 ft
• Height: 10 ft
•Horsepower Requirements: 250-700 HP
•Volume of dirt: 16-20 cu/yds
*view brochure for more specs

Gladiator 3.220
• 22' blade
• 23,000 lbs.
• Length: 28.75 ft
• Height: 10 ft
•Horsepower Requirements: 350-700 HP
•Volume of dirt: 21-26 cu/yds
*view brochure for more specs
GPS Mount
An optional mount is available for those wanting to mount a GPS or laser receiver on the Gladiator.
Serrated Cutting Edge
An option available for the 2.18 series for curring into clay like conditions.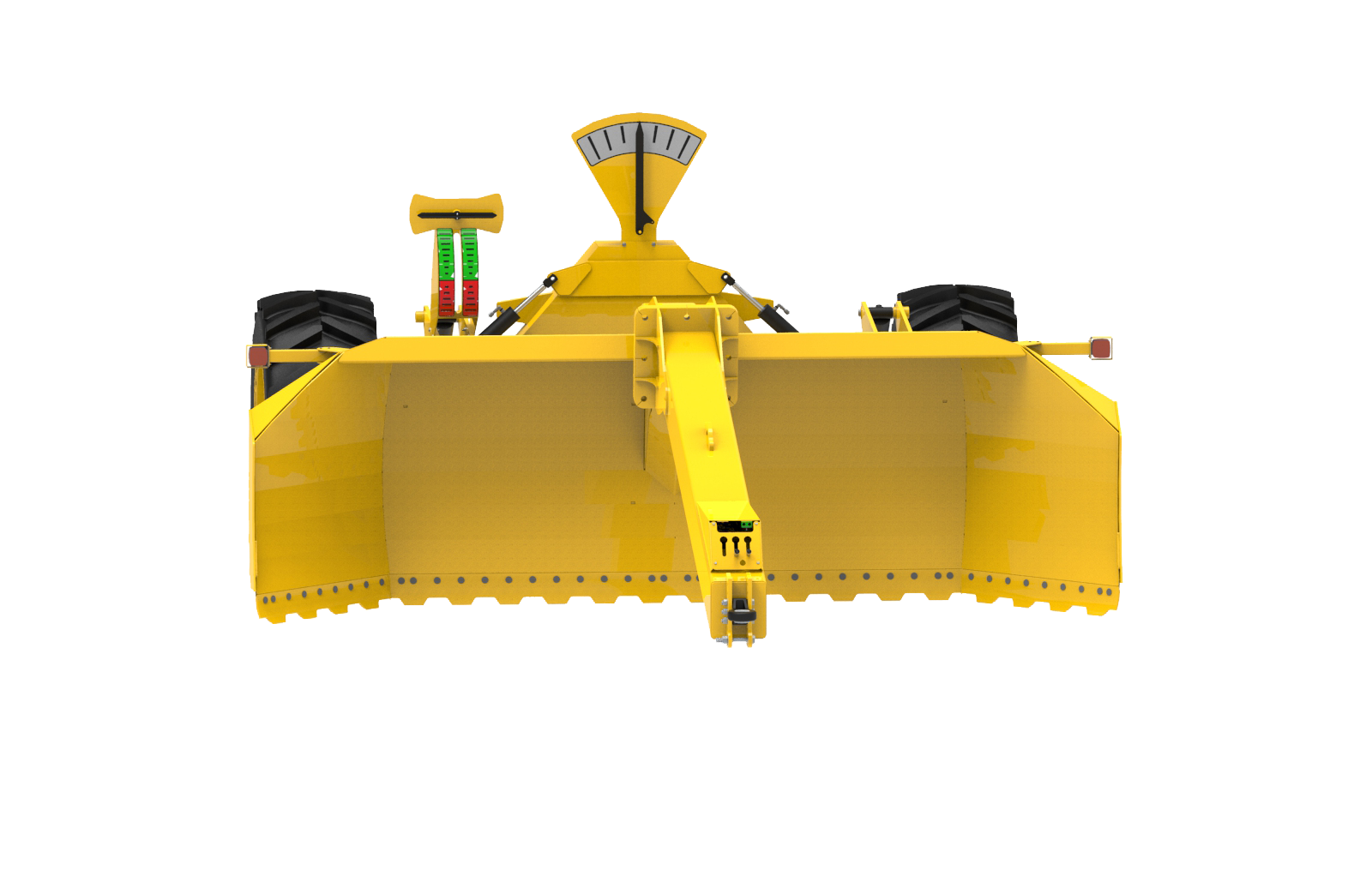 Moldboard Extension Kit
An optional moldboard extension kit is available for the Gladiator.


Home Office (Canada)
PhiBer Manufacturing Inc.
P.O. Box 58, 108 New Hope Dr.
Crystal City, MB  R0K 0N0
Office (US)
PhiBer Manufacturing Inc.
P.O. Box 54, 68 Main Street
Sarles, ND  58372